Comparison: 2018 Acura TLX vs. 2018 BMW 3-series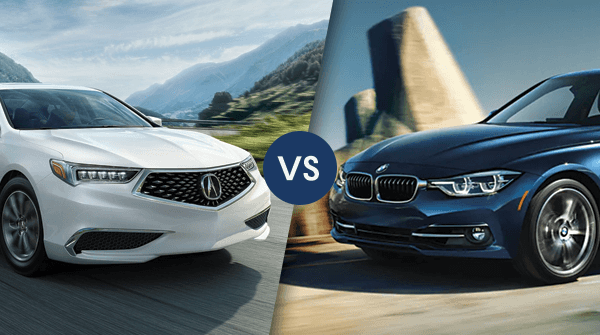 The 2018 Acura TLX and the 2018 BMW 3-Series are mid-size luxury sedans with sporty exteriors. Both these models offer an overflow of features and stunning exteriors that are guaranteed to turn heads on and off the road.
Both sedans are great options if you're in the market for a new vehicle, but of course one comes out on top. We put these two mid-size luxury sedans head to head in our review below and in our opinion the Acura TLX is the clear winner. If you find yourself picturing the 2018 Acura TLX in your driveway, come visit us at Friendly Acura in Middletown, New York. We would love to get you set up with a test drive.
Performance
2018 Acura TLX
The TLX gives drivers options when it comes to powertrains, but today we will focus on the TLX V6 and A-Spec engine. The V6 engine produces 290 horsepower and 267 lb-ft of torque. The V6 is paired to a 9-speed automatic transmission.
Now we will get into the A-Spec powertrain option. This is the high-end engine option offered from Acura for the TLX and it does not disappoint. The A-Spec improves the engine by adding a sportier suspension, firmer dampers, and a grander rear sway bar. The real show stopper the A-Spec brings to the table is the intake system provided the Active Sound Control system. The A-Spec is available as a V6 4 cylinder engine.
2018 BMW 3-Series
The 2018 BMW 3-Series has a list of engine options which gives drivers many options when outfitting their sedan. We will split this into two different offerings, and cover one engine under each of the options. The BMW 3-Series has a Turbo-4 and Turbo-6 configuration.
The Turbo-4 has four available configurations which include a hybrid and turbodiesel option. The standard engine offered across all 2018 BMW 3-Series is a 2.0 liter turbo-4 that produces 180 horsepower and 200 pound-feet of torque. This engine combination is paired to an 8-speed automatic or a 6-speed manual transmission.
For the Turbo-6, BMW offers the 340i which is a 3.0 liter engine that produces 320 horsepower and 330 pound-feet of torque. The 340i option is available in a rear-drive with a manual transmission.
All wheel drive is available on all models of the BMW 3-Series.
Features & Technology
2018 Acura TLX
Standard across all 2018 Acura TLX models is Acura's suite of driver assistance features, AcuraWatch. This package includes lane-departure warning with active lane control which aids drivers to keep their vehicle centered. AcuraWatch also adds the feature of adaptive cruise control.
For 2018, Acura made the TLX standard with Apple CarPlay and Android Auto compatibility. The infotainment system inside the TLX has improved for 2018, with better looks and faster functioning. Acura updated the touchscreen system to a capacitive-type which is what you'd find on a smartphone. This update will help response speeds for 2018 TLX drivers. Another available option includes a wireless charging system, large enough to fit an iPhone 7 Plus.
2018 BMW 3-Series
The standard offerings for the 2018 BMW 3-Series 320i model include 17-inch wheels, manually adjustable front seats, synthetic leather upholstery, Bluetooth connectivity, automatic headlights, dual-zone climate control, and a 6.5-inch infotainment system screen display.
BMW offers quite a few options for drivers to customize their 2018 3-Series, starting with the Shadow Sport edition. This adds a glossy black grille and sleek black wheels. The Premium package adds leather seats, moonroof, keyless ignition, and power adjustable front seats. All great options, but, of course, they'll cost you.
As we said in the beginning, both great options. However, in terms of performance, safety, and styling, the 2018 Acura TLX can't be beat.
If you find yourself favor the 2018 Acura TLX like we do, come stop in to Friendly Acura in Middletown, New York. We will get you set up with the perfect TLX for you.
2018 Acura TLX
Starts at $33,000
2018 BMW 3-Series
Starts at $34,900